Seven Perks of Partnering with a Wellness Coach
Do you ever feel stuck in achieving your wellness goals? You know you could be living healthier, but it's so hard to stay motivated. Or perhaps, you're simply overwhelmed by all of the options for maintaining a healthy lifestyle.
For instance, do you choose a gluten-free or paleo diet and high-intensity training; or go vegan and develop a meditation or yoga practice; or get more cardio and quality sleep while eating a balanced macro diet? 
There is no lack of information out there on choosing a healthy and effective lifestyle, and each person needs to create their own unique path that works for them. So how do you know which one is right for you to be living your best life? 
That's where having a wellness coach comes in and can be so beneficial. Imagine having someone on your side to help you navigate all of the differing opinions on how to achieve optimal health. Someone who is well versed in the many options, and trained by Mayo Clinic's world-class health facility to know the benefits of each technique. Someone who acts as a collaborative partner to guide you in the right direction of your fitness, nutrition, or wellness needs. Someone who will listen, ask the right questions, and discover your unique motivation for getting you in shape and moving forward on your wellness journey. 
Seven Perks of Partnering with a Wellness Coach 
Collaborates with you
Working wellness coach at Three Forks Ranch with a is a collaborative partnership. You connect with a real person at the Ranch who has been trained by the prestigious Mayo Clinic and stays in contact with you on your wellness journey once your stay is over. Not only does this create an intentional and focused reason for your stay while at the Ranch, but it also allows you to stay connected to your wellness coach and to your goals long after you have returned home. 
Offers you support
The role of the wellness coach is not to just tell you what to do or to suggest you follow a generic one-size-fits-all plan. The coaches help you create a personal wellness vision and meet you wherever you happen to be in your wellness journey — from just starting out to having been focused on your health for quite some time. Working with a coach offers a safe space for you to be heard without judgment. A coach is a positive and optimistic cheerleader to gently lead you towards your goals in your sustainable wellness journey.
Creates a plan
Often, what holds us back from achieving our optimal health is simply not having a plan. One great benefit of having a wellness coach is that they help you to create a plan for the future. This plan could include many benefits — from wanting to work on self-confidence, weight loss, fitness and exercise, relationships, focus, sleep, or just improving productivity. If you are motivated to change and improve your life in some way, the wellness coach is here to help you lean into those goals.
Holds you accountable
A wellness coach holds you accountable, keeps you focused, and helps you move forward along your path to success. It's amazing the improvements that can be made just from having a person that knows you're working toward a goal. Our coaches not only check in with your progress, but they also experiment with various ways for you to become your very best. They keep in touch to see if you're hitting your wellness goals and incorporate new strategies if your routine seems to be getting stale or boring.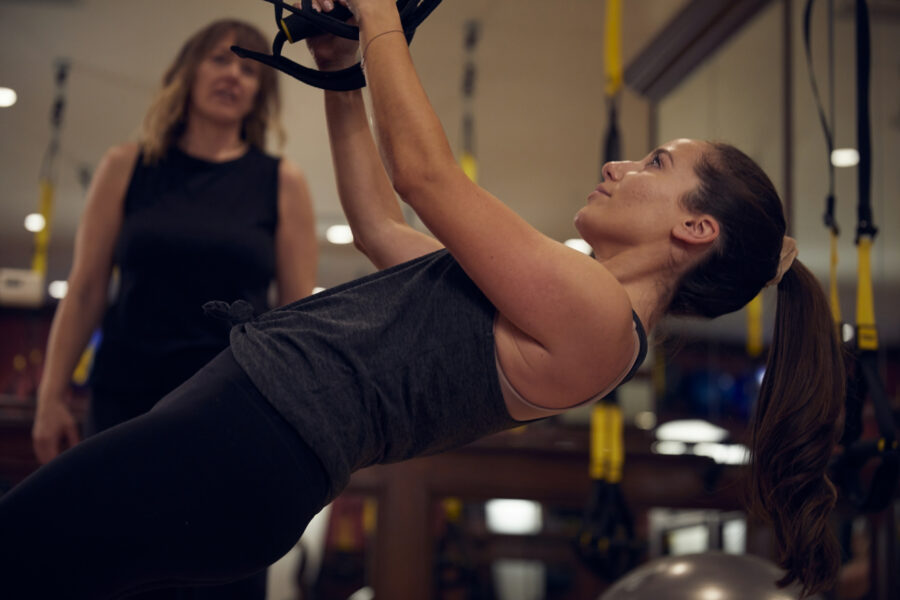 Gives you tools
Professionally trained by the Mayo Clinic, our certified wellness coaches are equipped with an arsenal of tools to live a healthier lifestyle. Our coaches can help brainstorm ideas for nutrition and exercise options that fit your wants and needs. They can also help you learn new ways to move, or how to become more aware of how you hold your body while doing daily activities such as grocery shopping or sitting in a meeting. Our wellness coaches will provide suggestions for you to incorporate more wellness into your everyday life. 
Understands your strengths
As a prestigious guest of Three Forks Ranch, you are most likely a high achiever. We know that you have many strengths, such as determination, leadership, intelligence, and work ethic that have gone into achieving your level of success. Our wellness coach works with you to understand your particular strengths, desires, and values and how those relate to your overall well-being. Instead of pushing you out of your comfort zone, they use your unique strengths to help you reach your best through improved health and wellness. 
Continues to motivate you 
A wellness coach not only understands your strengths but learns to see what motivates and inspires you. Finding your "why" is critical. Maybe it's a greater focus on family, to enjoy a happy retirement, or to achieve your career goals with energy and vitality. Once you gain focus on what is motivating you to become healthier, a coach reminds you of this "why" to keep you motivated. Because we don't use a cookie-cutter approach, every coach and client relationship is unique. The partnership is driven by the client's needs, wants, and vision. The wellness coach simply helps to guide and inspire you (but not tell you what to do) along your wellness path, because every journey is different. 

To learn more about wellness coaching at Three Forks Ranch, visit our website.